Learning how to be happy with yourself is one of the most important things you can ever do in life.
But the problem is, it's so easy to think, 'I'd be happy if only I were married/ had a child/ had a promotion….' But would you? It's true that happiness is entirely individual. Happiness is different for each person. There's no formula.
However, Psychologist Sonja Lyubomirsky studied how our happiness is determined. She argued that 50% of the variance in happiness is due to our genes, 40% is due to our internal state of mind, and that only 10% is due to our circumstances.
It shocked me that our circumstances attribute such a small part of our happiness variance. In fact, our mindset is a much bigger factor!
Luckily, mindset is something you can control. You can learn to take charge of your mind and learn the skills needed to develop a positive mindset and outlook that will contribute massively to your happiness in life.
It's important to learn how to be happy with yourself so that you don't put the entire pressure of your happiness onto someone or something else. Learn to love yourself. Remember that you're the one you'll be stuck with no matter what!
These are some practical ways that you can improve your mindset and outlook in order to finally know how to be happy with yourself!
THE PERKS OF HAPPINESS
Did you know that being happy can actually benefit your health? Scientists have cataloged a whole host of benefits that increased happiness gives us.
Studies show that happiness can reduce your stress levels. It can protect the heart by reducing blood pressure, which is a major risk factor for heart disease. Studies have also shown that happier people rated lower on pain ratings- especially in chronic conditions such as arthritis.
All in all, studies show that being happy may help you live longer!
And while the benefits are great, it's about more than that. Being happy is something we naturally want as humans, but it can feel elusive, especially when our circumstances aren't what we want them to be.
Remember that it's your mindset that plays a bigger role in your happiness than your circumstances.
So what can you do to take charge of your mindset and learn how to be happy with yourself no matter the circumstances?
How to be Happy With Yourself
1. KEEP PERSPECTIVE
Losing perspective is all too easy to do. When you're worried about something it can be easy to inflate your problem, and to blow it out of all proportion.
One of the best ways to keep perspective is to focus on the things you're grateful for. This video from Matthew Hussey describes perspective in relation to your self-esteem and insecurities. He gives a whole new angle on how keeping perspective can make you see how much you really have.
A good way to keep perspective is to get out and help others. Volunteer for charities that need it.
Helping those who need it can drastically change your view on things and helps you to keep perspective on your own life. Even helping at one-off events can give you a whole new way of thinking.
2. SET GOALS
Setting a goal is putting a plan around achieving a dream. Is it necessary to have goals? I think so!
Goals give direction and focus. They let you get down to the details such as time-frames and how to actually measure when your goal is achieved.
Research has shown us the strong connection between goal-setting and success, with goal setting also being linked with higher motivation, self-esteem, self-confidence and autonomy.
Have a look at my 7 Surefire Tips for Setting Goals you Will Actually Achieve.
3. INVEST IN YOURSELF
Whether it's with time or money, investments in yourself will never be wasted.
Have an attitude of learning- this will allow you to develop skills, meet new people, have new opportunities, and overall keep growing as a person.
Not only will this make you more interesting to people around you, it will also benefit them, as well.
Overall, investing in yourself is a great way to also invest in your happiness.
4. LOOK AFTER YOURSELF PHYSICALLY
Looking after yourself physically can have a knock-on effect to your overall health and wellbeing.
Regular exercise can help to reduce stress, feelings of anxiety, and symptoms of depression, while boosting self-esteem and happiness.
Eating well, too, has been found to increase happiness. It's especially tempting to fall into bad eating habits on your own, but the benefits are worth the extra effort. Try to eat well, eat regularly and not to skip meals. It will have a positive impact on your happiness.
5. HAVE A SELF CARE ROUTINE
Routines are important, and even more so self-care routines. This encompasses self-care in every sense of the word- physical, mental, emotional, spiritual. Spend the time and effort to learn what you need to feel well and then put routines in place to make sure you're carving that time out.
6. MAKE PLANS WITH YOURSELF
Making plans with yourself sounds cheesy, but it's important in understanding how to be happy with yourself.
Make a list of things you love to do and schedule them in- you deserve it, even if it is on your own! Actually planning it is important, too. Whether it's a regular treat or a one-off, the anticipation will make it all the better.
7. STOP AND BREATHE
Stopping to breathe sounds simple- but when is the last time that you did it?
Meditation is one way to stop and breathe.
This reduces stress and anxiety and improves your quality of life and boost your immune system. It's also been shown to reduce anger and improve sleep, even among prison inmates.
However, if you're not into meditation, doing simple breathing exercises can have a big impact.
Check out these breathing exercises from the NHS to learn how to get started.
8. GET OUTSIDE
Research shows spending time in nature (at least 30 minutes a week) can help to improve symptoms of depression and lower blood pressure which in turn reduces the risk of heart attack.
Look for green spaces to spend time in. It might be a garden, a park or a beach. If you're stuck for options, even sitting by a window can have a positive impact.
Another benefit to heading outside is the opportunity for social interactions. Just smiling at another person will release chemicals in your brain that make you in turn feel happier. It's so simple but unbelievably powerful!
Next time you're in a bad mood, why not try it? Go for a walk and smile at people you pass. You'll be amazed at the impact this can have on your own level of happiness.
9. INITIATE CONTACT WITH OTHERS
Learning how to be happy with yourself means learning how to be happy with others as well. Loneliness can have such a negative impact on your mood and health.
And, while everyone's level in this is different, some form of social connection is vital for happiness. This can be difficult for so many reasons.
I encourage you to be proactive in initiating social contacts.
This might mean that you are the one to contact a friend or family member to suggest hanging out. Or it might be going along to a social event, joining a club or group, or even starting a group yourself.
Humans are social, and science clearly shows that it's the connections with others that make us happiest in life.
10. BE KIND
Research shows that when you perform acts of kindness, your sense of satisfaction and overall happiness can benefit.
A key theory in neuroscience says that when we see someone else experience a positive emotion, the same part of our own brain lights up, giving us the same positive impact.
In the same way, research shows that giving gifts to another person can have a greater effect on our happiness than receiving a gift ourselves! This is definitely something to remember next time you're having a bad day!
11. TAKE TIME TO REFLECT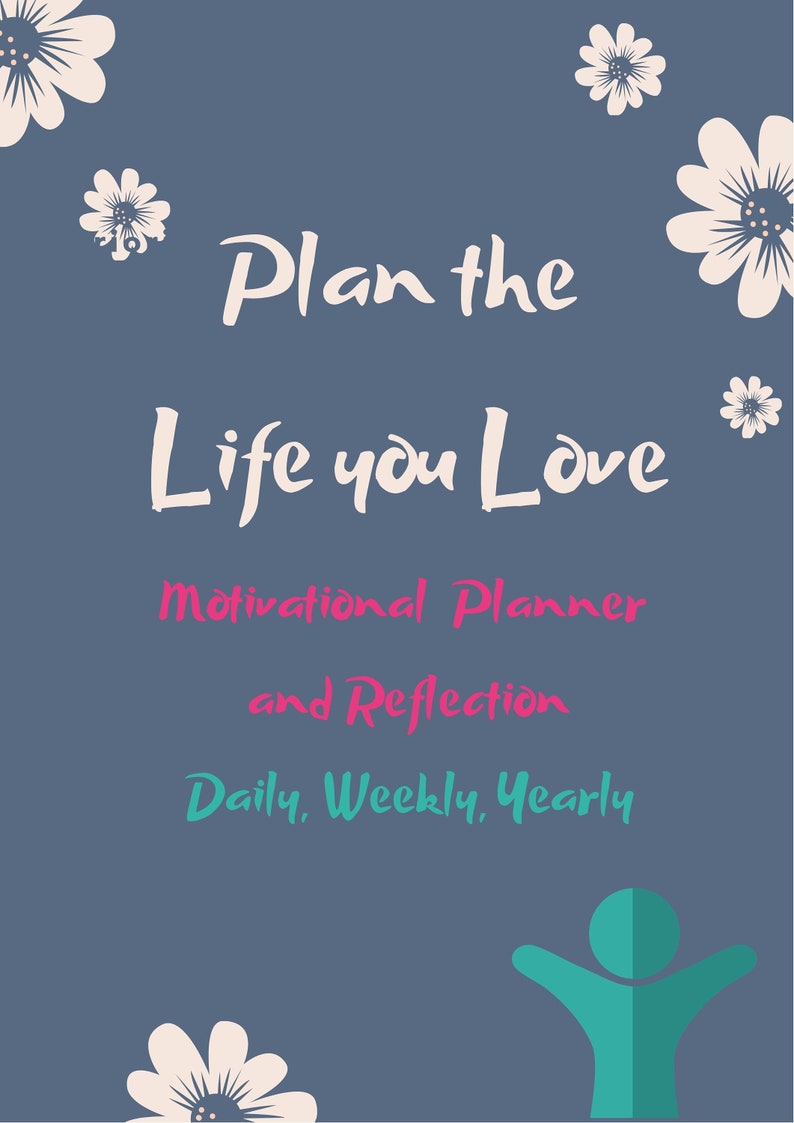 One of the best ways to reflect is to journal. Even a few minutes of writing in a journal each day can have amazing benefits. Research suggests that journaling can boost happiness in five minutes or less!
It can reduce anxiety, depression and stress, and can help you to develop insight and cope with emotions. It can help you to see things in a new way, and to reflect on what you've learned from experiences. These can help you to grow and get the most from life.
This motivational Plan the Life You Love Motivational Planner and Reflection from Etsy will inspire you and help you to plan a life you love. The reflective pages help you to capture key moments in your life- what you're proud of, grateful for, what made you laugh, a person that helped you, something to work on, as well as words to remember. It lets you create a beautiful memory to look back on.
It's just a few dollars so why not grab a copy and experiment with journaling?
You might also enjoy:
Comment and let me know what works for you in knowing how to be happy with yourself. Please also share this post if you enjoyed it- every share helps!
Thanks for reading!
Freya x
11 Must-Know Tips on How to be Happy With Yourself