These 10 easy vegan dessert recipes are all delicious and super quick to make. They're perfect for enjoying on your own as a healthier version of a classic treat, or for when you have guests coming over that have dietary requirements. Lots of these have been adapted from traditional recipes. You'll be surprised how good the vegan version tastes in comparison! In my opinion, it often tastes even better than the original.
Not only is this pudding vegan, it's also gluten free and dairy free so it could cover many of the dietary requirements around your table making this a great choice for a dinner party. I adore coconut and this recipe is super coconut-y with both coconut cream and shredded coconut. But maybe the best thing about this delicious dessert is that it only takes 5 minutes?! You really can't go wrong!
This Strawberry Cheesecake is creamy, rich and there absolutely no baking involved! I love the nutty flavor of the base which is very quick to assemble in a food processor. Save some strawberries and add a mint leaf for the top as this makes it look even more stylish and a perfect wow-factor dessert for a party.
This is a very easy cake and is perfect for anyone looking for a simple and uncomplicated recipe. You don't need to peel the pears so it's basically mixing the wet and dry ingredients and then stirring them together before adding fruit. Although this works well with coffee, when you add vegan ice cream, coconut cream, or fresh fruit then it is a perfect dessert.
This self-saucing chocolate pudding is gooey, fudgy and absolutely indulgent. I love warm puddings and ice-cream and I love that this can be done in a vegan free style! When you let it cool, it gets fudgy and reaches a whole new level of deliciousness.
You can't beat recipes where all the magic happens in one single saucepan like this Vegan Peanut Butter Pudding. It takes the stress out of cooking, and makes cleaning up a total breeze! And, you'll have this amazing peanutty pudding to enjoy when you're finished. You can get creative with toppings, too (if you manage to resist the temptation to eat it straight from the pan!)
This banana bread and butter pudding is one of the tastiest easy vegan dessert recipes out there. It uses only six ingredients and takes just 30 minutes. You can add the toppings off your choice to make it either fruity or chocolatey depending on your taste. It goes just as warm, crispy and moist as the original version so you're sure not to be disappointed.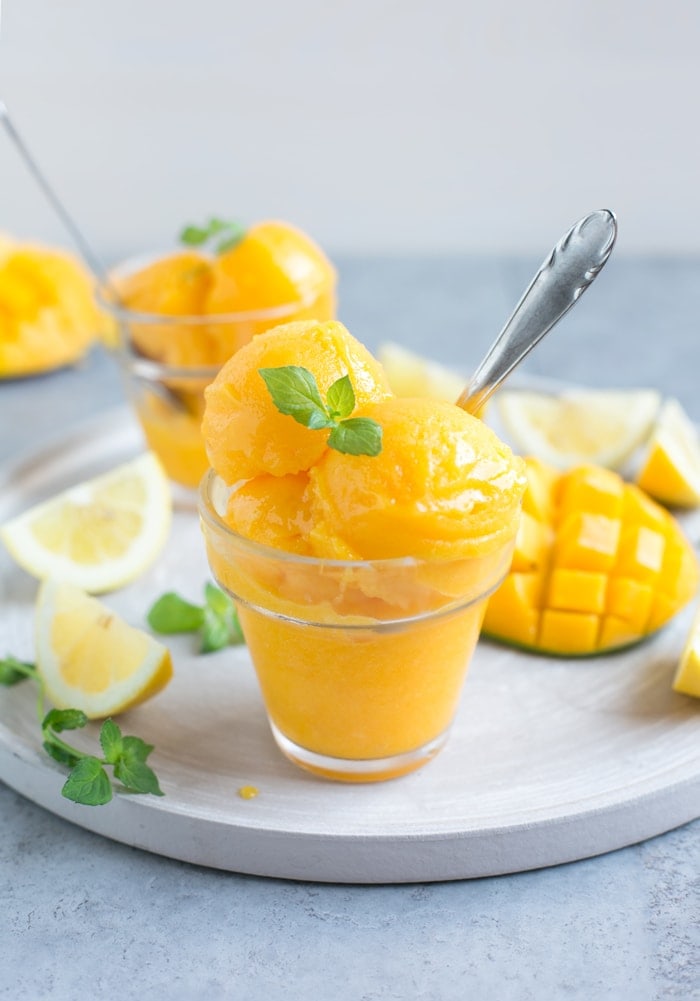 A sorbet is a classic vegan dessert but it can be one that I easily forget about. This mango sorbet is refreshing and very, very quick. Once you've made it, you won't forget about it in a hurry! Use frozen mango chunks to create this yummy summery dessert in only a few minutes. Using sweetener makes this recipe even healthier so you can enjoy it guilt-free.
Baklava is my all-time favorite dessert. I was really surprised to come across a vegan version that only has 5 ingredients. Using store-bought pastry cuts down the prep time significantly, as well. Baklava is sumptuous and generally loaded with calories, but this version is a little healthier- which can only be a good thing when sugar and pastry are involved!
I couldn't make a dessert list without including a crumble! Packed with fruit, you can honestly use whatever you have on hand- apple, pears, berries and plums all work equally well. I like to dot chocolate bits into mine, too. This vegan recipe is clever and tastes fantastic.
This chocolate and berry filled puffed pastry dessert is vegan, has only three ingredients, and takes ten minutes to make. It even looks really impressive, too (once you've conquered the folding part of the recipe!) Having this recipe at your fingertips will make sure you're all sorted for any sweet cravings you might have.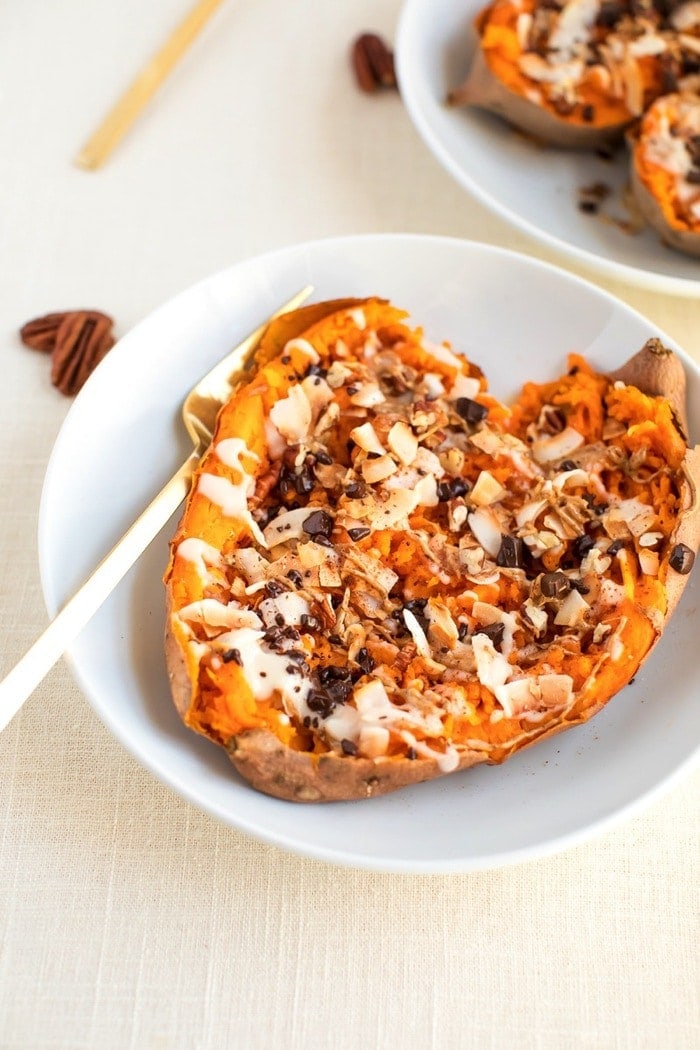 A baked sweet potato might not be what you usually grab when you have a sweet craving- after all, they're far too healthy to be dessert, right? This sweet potato recipes involves cinnamon, coconut, nuts and chocolate to make one incredibly gorgeous dessert. There are also suggestions for different combos- I have my eye on the s'mores one, next!!
AND THAT'S IT!
I hope you enjoyed these easy vegan dessert recipes, and have some new ideas for when you really need a sweet healthy hit.
You might also enjoy:
Thanks for reading! Comment and let me know if you try any of these recipes, I'd love to hear from you.
Freya x
10 Quick and Easy Vegan Dessert Recipes for a Sweet Healthy Hit