I'm always looking easy but healthy breakfast recipes. Breakfast is what motivates me to get out of bed, but all too often I fall back on my old favorite: toast.
Don't get me wrong, toast it great, but when I calculated that toast is my go-to for more than 300 mornings of my year that I realized how badly I was craving a shake up.
I want to start my day well with a healthy meal… but I equally don't have a lot of spare time in the mornings.
These breakfast recipes are both healthy and easy and hopefully are the perfect balance!
Try them out and let me know what works for you to start your day.
10 EASY HEALTHY BREAKFAST RECIPES
These Tumeric Scrambled Eggs are perfect for when you want a classic dish with a spicy twist. I love eggs in the morning, and the addition of tumeric makes them well worth getting up for! The added spinach makes it an even healthier start to the day, and you can use your favorite bread to pair it with.
These Coconut Flour Pancakes are fluffy and taste amazing topped with berries and maple syrup. They are paleo, dairy-free and gluten-free so they ticks lots of dietary boxes and are undoubtedly a much healthier version of classic pancakes. With a recipe like this, you can have an amazing weekend breakfast treat.
Kedgeree is an ancient Indian dish that became popular a popular breakfast dish in Victorian times. I love kedgeree for breakfast, maybe it's the history, but it's pretty much the only way I'd enjoy fish for breakfast! It's filling, super healthy, and is great for watching your weight.
These Vegan Breakfast Burritos are an amazing plant-based breakfast option filled with roasted potatoes, beans, mushrooms, and avocado with a blend of yummy spices. I like the version with sweet potato rather than regular, but it's personal choice! This is honestly the kind of breakfast I go to bed looking forward to. It's warm and filling, and best of all, healthy! An ideal breakfast for a cold winter's day.
If you're energy level doesn't stretch to turning on the oven in the morning, or if you just need a quick grab and go, these Easy Overnight Oats could be your perfect healthy breakfast go-to. You simply mix things together the night before, and wake up to a super healthy breakfast. This tutorial covers 5 different ways to make these oats, so oats for breakfast will never need to be boring again! I love peanut butter, so I'd recommend the Chunky Monkey version.
You couldn't find an easier breakfast than these 5 ingredient No Bake Breakfast Bars. They are so delicious and really feel like a breakfast treat. Even better, once you make a batch you're sorted for days! You can even put them in the freezer to keep them extra fresh.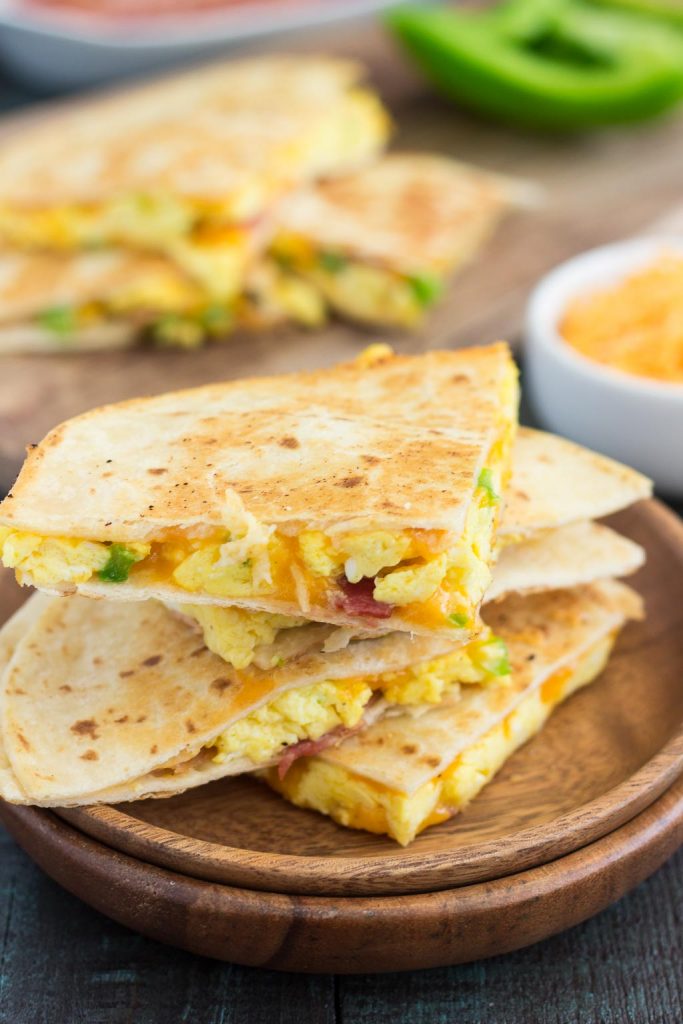 These Easy Breakfast Quesadillas are filled with scrambled eggs, green peppers, bacon and cheddar cheeses and are surprisingly easy to make. The crunch of the tortilla shells and the tastiness of the fillings make this a really yummy breakfast option.
This Broccoli Omelette also contains red onion, cheddar and feta. Eggs are recognized internationally as one of the healthiest options for breakfast, and omelettes are super fast to whip up. All up, this is an easy and healthy breakfast recipe that you can go back to time and time again.
I hadn't heard of breakfast popsicles until very recently. So, until recently, I didn't know how majorly I had been missing out! These Banana and Honey Breakfast Popsicles are basically chunks of banana and cereal, with yogurt, milk, honey and cinnamon. You can make them healthier by using low-fat versions, and choosing a healthy cereal (or simply having a higher banana-cereal ratio). If you're looking for a way to spice up the traditional bowl of cereal- this is it! It's also a handy breakfast option that you can make ahead, freeze, and grab when you need!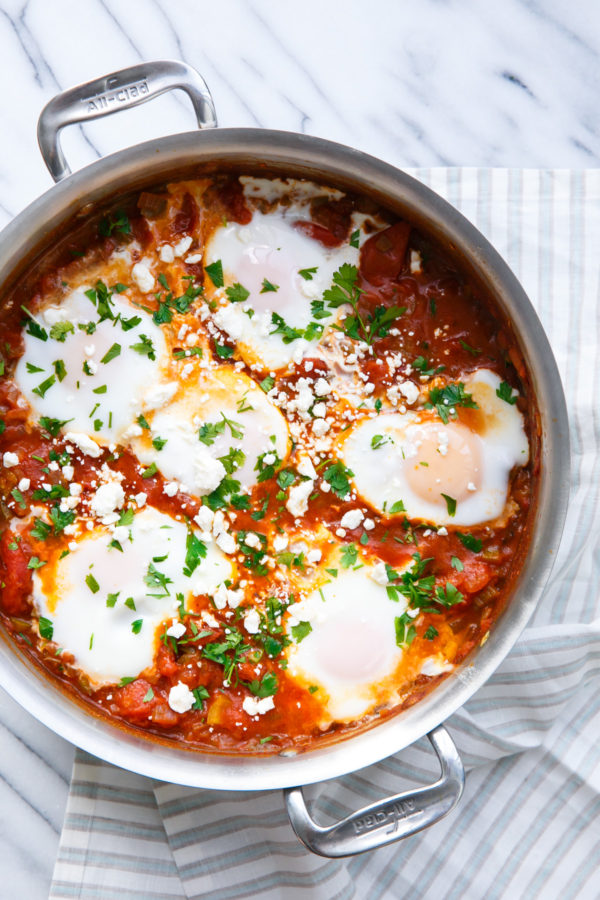 Shakshouka is an Arabic dish of poached eggs in a spicy tomato sauce. This goes really well with pitta bread and makes an absolutely amazing breakfast that tastes more complicated than it really is. If you want to speed yourself up in the morning, pre-mix the spices so you can simply throw them in when needed.
AND THAT'S IT!
I hope you enjoyed these easy healthy breakfast recipes, and have some new ideas for making the most of the first meal of the day!
You might also enjoy:
Thanks for reading! Comment and let me know if you try any of these recipes, I'd love to hear from you.
Freya x
10 Easy Healthy Breakfast Recipes To Get Your Day Off to the Best Start